Distributed Products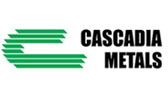 Specializing in bare and pre-painted 55% Aluminum-Zinc Alloy Coated steel (aka Galvalume®), bare and pre-painted galvanized, resin-coated, galvannealed, electrogalvanized, aluminized, cold rolled, and hot rolled substrates. We offer these products in both coil and flat sheet. With their top-of-the-line slitting and cut-to-length capabilities, Cascadia Metals can meet the most rigorous quality and service requirements... quickly, accurately, and consistently with each and every order. They also offer toll processing of customer owned materials.
GRABBER is a leading distributor of quality products built for construction professionals. For this market, quality is everything. Products must be 100% reliable and durable to meet the demands of an increasingly fast-paced and productivity-minded profession.
The construction industry rewards innovations that achieve real gains in efficiency, performance, and job quality. All GRABBER products must meet this high standard of excellence. They engineer them to be superior to all other products in their class.
Their core line of products includes screws and fasteners for a variety of wood, metal, and drywall applications. GRABBER screws are regarded as the best in the industry, punctuated by the fact that our competitors have had to duplicate our designs. GRABBER manufactures or distributes many other product lines for the commercial and residential construction industries as well, including proprietary construction equipment, drywall tools and materials, power drives, adhesives, and accessories.
Steelscape is a national supplier of metallic-coated and pre-painted steel. Aimed at servicing the construction industry, Steelscape's products can be used for a wide range of applications... from metal buildings to architectural roofing to decking and framing.
Steelscape has built a reputation for high-quality products, reliable delivery performance and responsive customer service. Steelscape has the unique ability to process hot band coil - from pickling to painting - under one roof which allows Steelscape to control the entire coating process, ensuring a greater degree of quality, consistency and on-time delivery for customers.
Steelscape provides their customers products in a wide range of thicknesses, widths, grades and coating weights. In addition, Steelscape offers value-added processing that includes slitting, embossing, cut-to-length and toll processing. With all those choices, customers can be sure Steelscape has the right steel and coating for the desired application.
Steelscape's facilities, located in Kalama, Washington and Rancho Cucamonga, California, are strategically located near major truck, ship and rail routes to best serve the U.S. market.